Giveaways are wonderful, fantastic, and everyone loves them, right? As a blogger though, it isn't always clear to know how to start running Giveaways. As our readership grows, companies start finding us, and "pitching" us – but when we start, we find ourselves fumbling around and not knowing who can help guide us. Who will welcome contact from us, and who would be interested in working with us?
Sara of "Deal"icious Mom and I teamed up today to create a group within the Mom Bloggers Club called Pitch It To Me. (Edit 4/16/10 – We now have our own Ning!)
"Do you want to find those companies that are willing to work with bloggers? Looking for new opportunities and partnerships? Need tips or have questions about how to get started reviewing products? Want to pitch your products to some great bloggers?
If you are a blogger who is interested in running Giveaways, I welcome you to join, and invite your fellow bloggers as well!
And for companies, you've got several options! If you welcome contact from bloggers interested in reviewing your products (and hosting associated giveaways), you can join too! You may either join directly and start conversational threads letting others know when you are ready to run a few Giveaways, or, you can provide your contact information to me via my contact form and ask that it be shared in this group. If you contact me via my form, please let me know if you are interested in me running a giveaway, or if you are contacting me to have your information posted in the Pitch It To Me group.
Thank you very much to Sara for taking the lead on this group and co-moderating it with me! And by the way, Sara's site "Deal"icious Mom, is fantastic and FULL OF DEALS so I highly recommend you check it out!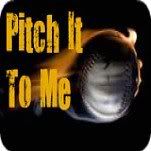 Join Pitch It To Me!